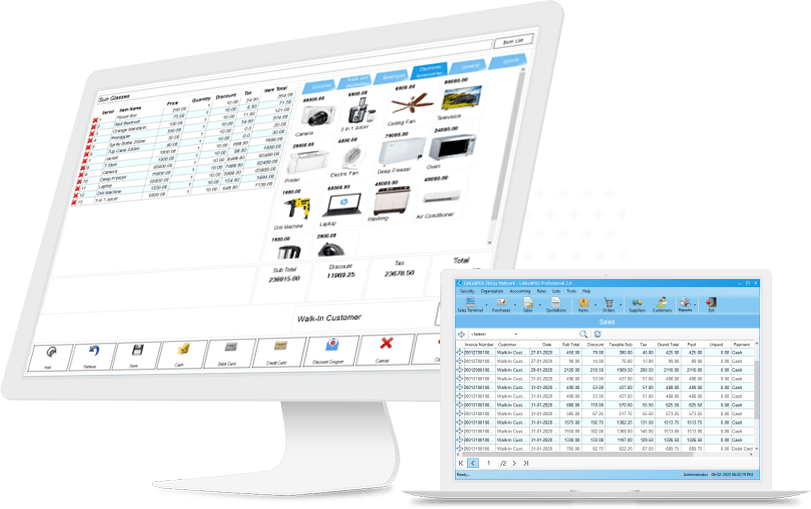 More Information
LinkedPOS (Linked Point of Sales) is a name we created and based on our software's most powerful feature; connecting users all over the world for instant point of sales and paperless demand-and-supply.

We know the effort it takes to run a successful business, especially in today's global markets. Businesses using LinkedPOS can connect with each other, with no need to worry about time zone differences, language barriers, or waiting for busy suppliers and customers to answer their phones. With just one click, a world of ease and opportunity for your business can be yours.

At LInkedPOS we have gone all out to give your business immediate access to free point of sales systems and inventory management software. Check out the features and functions below that will smooth out the day-to-day running of your business.

We think that the wealth of options we have put at your fingertips will supply you with the tools you need to run your business effectively and efficiently.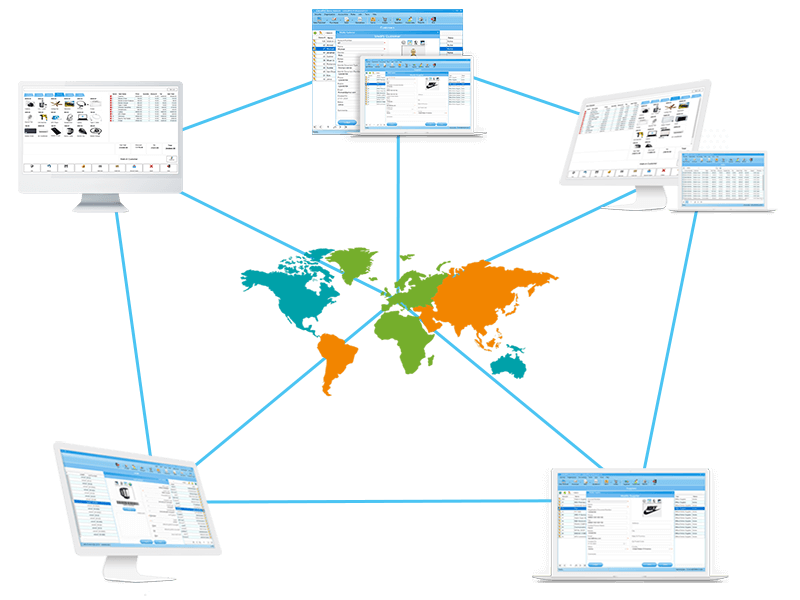 Access without boundaries
LinkedPOS is simple to download and install, giving you free direct access to its main features in minutes.

Functionality is key; any software system you introduce has to be user friendly. That's why we have created a generous amount of easy to use layouts for you to choose from to run your business. This enables you to instantly operate our software due to its easy to use, ergonomic design and magnitude of flexible features.

Benefit your business by being able to communicate around the world, broaden your horizons, and reach out with our multiple language options.

Introducing LinkedPOS into your business will instantly take a world of problems off your shoulders, giving you easy and affordable point of sales and inventory management system solutions.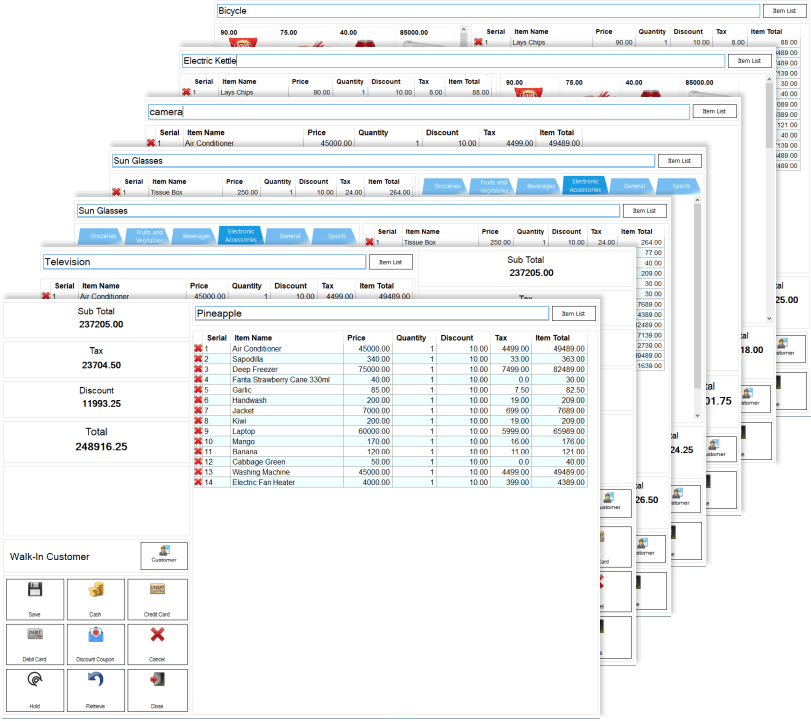 Choose your design
Running a business? You need fast and accurate operation systems which work with you, not against you. Your point of sales system is key in helping you to create the right process for the management of your staff and stock. LinkedPOS provides numerous sales terminal layouts so you can find the right one for your business.

All of our layouts provide private settings and features for each of your sales terminals. Whether you are a small high street shop or a large department store, you will find a layout that fits your business' purpose. Simply look through the layout options and start using them instantly. However, if any of our existing layouts don't hit the mark, please do not hesitate to contact us. We will do all we can to meet your inventory management systems and point of sale software needs.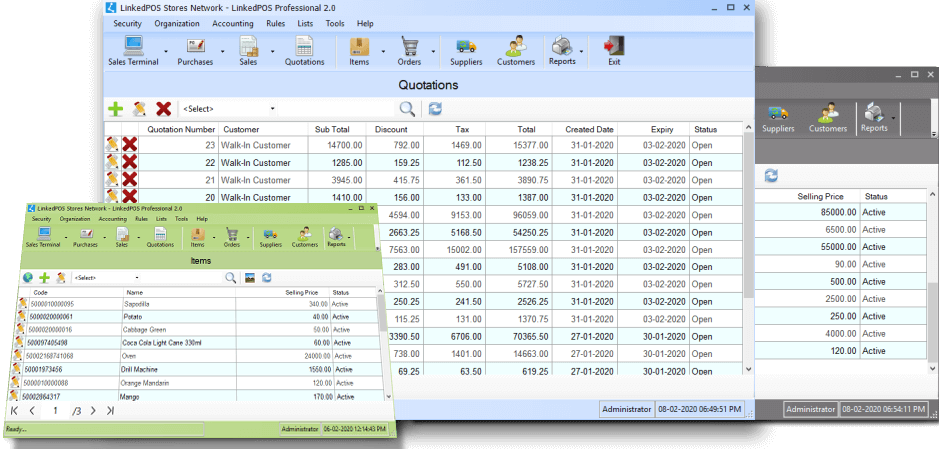 Set the tone
We have gone that one step further, not only integrating smart solutions that help you to facilitate efficient business management, but making it unique to you. Our software offers the user a personalised experience by allowing you to set the colour, themes, and more for the skin of your LInkedPOS user interface.

Allowing your systems to disguise themselves, as well as adapt to whoever is using them, is one of the unique and powerful features. What if an employee is colour blind, has an eye condition, or is weak sighted? With our software, you can select the user interfaces and choose the skin, colours, font size, and text which meet the individual needs of your business and employees.

Choose a point of sales systems and inventory management software that is soothing on the eye, suits your business, and satisfies your personal tastes.
Common Features
Among all the exciting features LinkedPOS offers, it also supports many types of common operations, making the day-to-day running of your business smoother.
Helping you to manage:
Security Controlled Access
Double Entry Accounting
VAT and Taxes (Invoice and Items)
Discounts (Invoice and Items)
Supplier Accounts
Customer accounts
Loyalty programs
Daily expenses
Online and offline purchases
Purchase returns
Online and Offline Sales
Sales returns
Issue time-based quotations
Combo deals
Multiple Reports
Owners investments and drawings
You do not just have more than 30 straight out of the box options for reports on your business. It enables you to hone the fields and displayed text in the layouts and reports your need, ensuring all your unique business practices are covered.

Choose our Professional or Enterprise packages and, for a yearly subscription, you can get more from your average point of sales and inventory management software using LinkedPOS.
Check out and compare all three of our packages and the features that come with them, or simply click on our free package to download and start using LinkedPOS now!
Download for free now!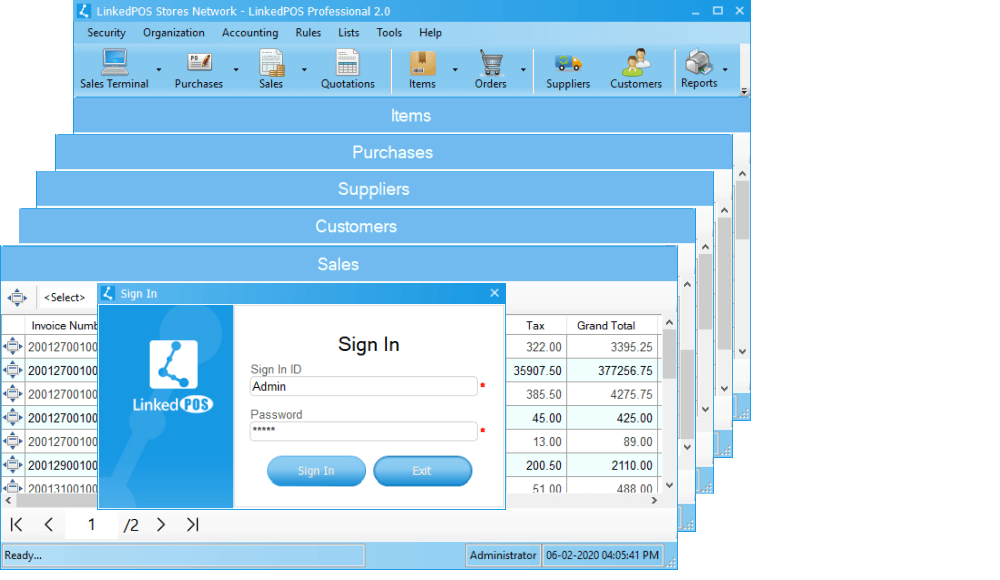 Reports at your fingertips
Did we mention reports? Not the most exciting part of a business by any means, but everyday reports are needed, helping us to maintain and grow our businesses. With our inventory management system and point of sales software, your days of trawling through files and databases are over!
Need to find that one transaction or invoice? Then look no further than LinkedPOS; keep all your inventory, purchase, and sales information in one place and just one click away. Choose from numerous reports with adaptable layouts, such as:
Items List
Items Stock List
Items Under Stock List
Products List (Combo Deals)
Purchase orders
Purchase returns
Sales orders
Sales returns
Many more...
Balance Sheet
Income Statement
Cash flow
Sales tax on purchases
Sales tax on sales
Expenses
Discounts
Customer/supplier statements
Properties/plant and equipment
When it comes to LinkedPOS and reports, the choices are endless. Plus, if we haven't created a report that best fits your business, then contact us and we will!
Contact Us